Dusty Ducts is familiar with the concerns and government regulations regarding work performed in businesses, factories, universities and hospitals and are able to address problems related to indoor air quality and/or other systems' maintenance. Our management team is aware of the complex circumstances that can exist within different facilities, therefore we begin each service with an on site conference and inspection to establish exactly what your needs are and how we can best address them. Every aspect of the service will combine the latest technology with years of expertise and experience that allows us to deliver what you want and need on time and within budget. Our services include:
DRYER VENT CLEANING
For prevention of fires, birds nesting, moisture and build up, regular dryer vent cleanings and inspections should be completed. Quarterly, semi-annual or annually maintenance programs available.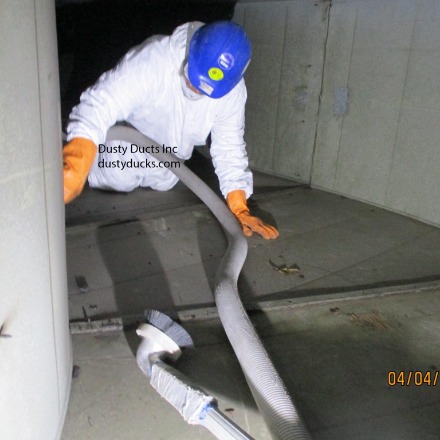 DUCT CLEANING
The HVAC system is cleaned using mechanical cleaning methods designed to dislodge and extract contaminants using a HEPA-filtered vacuum collection device in a safe and controlled manner.

GREASE HOODS
Dusty Ducts, Inc. follows all National Fire Protection Agency (NAFA 96) and International Kitchen Exhaust Cleaning Association (IKECA) standards. Monthly, quarterly, semi-annual and annual maintenance programs available.

FIBERGLASS LINED DUCTS
As the insulation starts to break down and become airborne it is potentially causing health hazards and damage to the HVAC system(s). Resolving the problem with alternate options such as contact cleaning and seal coating is less expensive than the replacement of the HVAC system(s) and ductwork.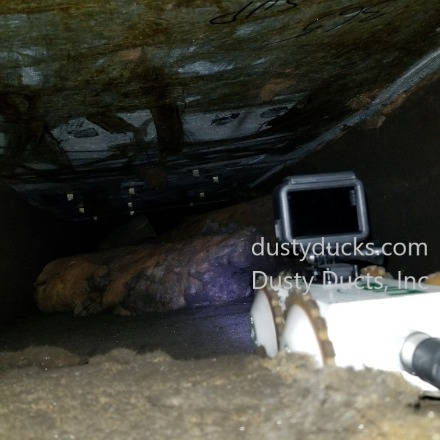 ROBOTIC INSPECTIONS
"Little Bill" is used to inspect inaccessible locations within the ductwork using remote technology.
VAV - REHEAT COILS
Contaminated reheat coils with broken down insulation particles can cause loss of air flow and efficiency.
We can clean each component of your buildings ventilation system from the air handling unit, supply / return ductwork, reheat coils and VAV boxes.
Disinfectants are the most effective way of eliminating viruses on hard (non-porous) surfaces. The products we use are safe, effective and will not stain materials nor harm or damage the HVAC system components.

Our clients have found our methods valuable and help communicate a proactive approach in maintaining healthy indoor air quality for their employees and visitors of their facilities.
CONTACT US to learn more.
ARMY CORPS OF ENGINEERS - DEPT. OF ARMY

CONDOMINIUM ASSOCIATIONS

CORPORATE OFFICES

DEPARTMENT OF VETERANS AFFAIRS

FINANCIAL INSTITUTIONS

INDUSTRIAL / MANUFACTURING PLANTS
MEDICAL CENTERS




NURSING HOMES

SCHOOLS / UNIVERSITIES

SENIOR LIVING COMMUNITIES

SPORTS VENUES

STATE OF MICHIGAN